News and Archive


Please see below for our recent events, newspaper articles on The Bruce Trust and further archived articles, showing some of our history and development!

| | |
| --- | --- |
| | Join us on Facebook too! |



August 2012

Over 150 disabled people to stay on a unique canal boat adjacent to Olympic Stadium while visiting the Paralympic Games ~ click here for pictures!


---

The Bruce Trust, which provides holidays for disabled people on the Kennet & Avon Canal, has sent one of its boats, The Diana, on an 82-mile canal and river journey from its base in Wiltshire to provide accommodation at the Paralympics for disabled visitors from throughout the UK, including men and women of the Armed Services going through rehabilitation at Headley Court.

The Diana, named in memory of the late Princess of Wales, was crewed during her journey along the Kennet & Avon Canal by members of several Rotary Clubs who also offered day trips en route to local groups of disabled people.

The Diana's mooring on the Regent's Canal in Victoria Park, provided free by the newly formed Canal & River Trust (formerly British Waterways), is the nearest to the Olympic Park which security will allow. Bruce Trust volunteers will man The Diana during the Games and disabled people from a wide range of charities will be staying on her while they attend the Paralympics. Charges are just £25 per night per person and The Diana can accommodate up to 10 people including carers per night.

Stated Trust founder, David Bruce: "This is truly a once-in-a-lifetime opportunity to not only attend the Paralympics but also to stay on one of our special boats in a unique location. The Diana is fully equipped and accessible for disabled visitors and we are only a few minutes wheelchair ride away from the Olympic Park."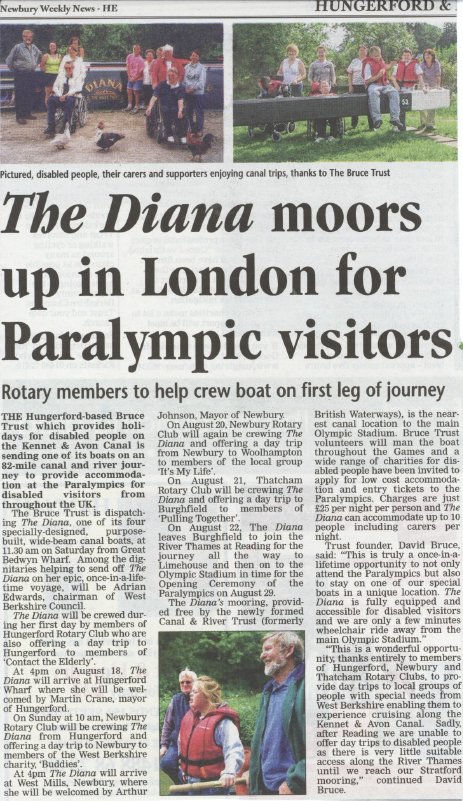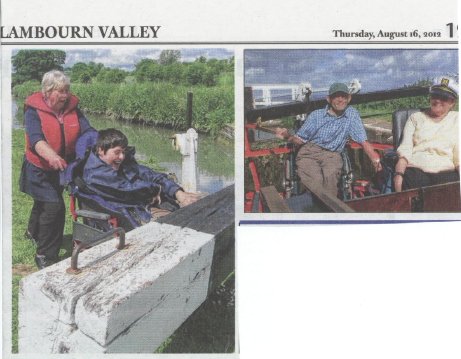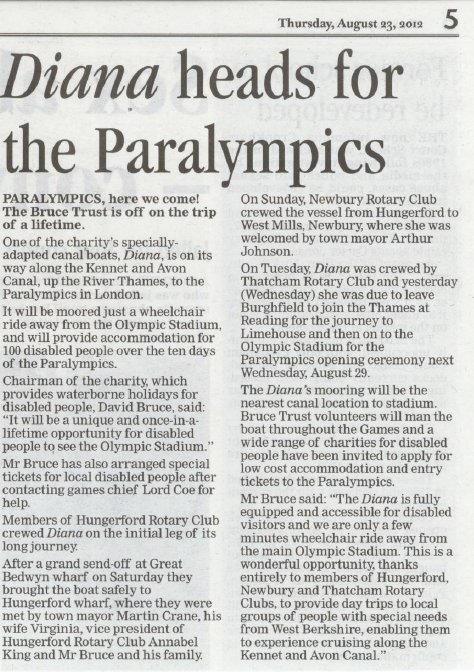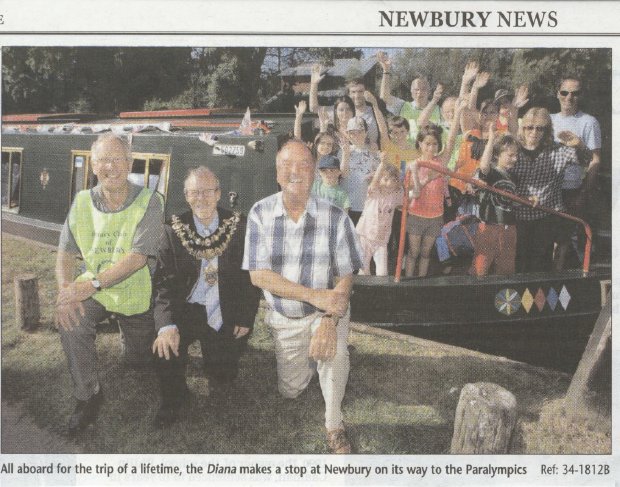 Gazette & Herald 21st August 2012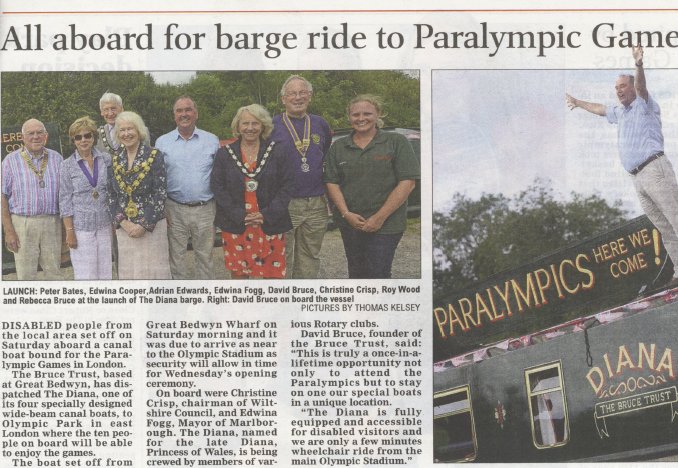 ---

October 2011

Danese has asked us to thank everyone who contributed towards the trip for her retirement award and let them know how much she enjoyed it ~ if you would like to know more about her trip and see some pictures then click here



---

Thursday 11th August 2011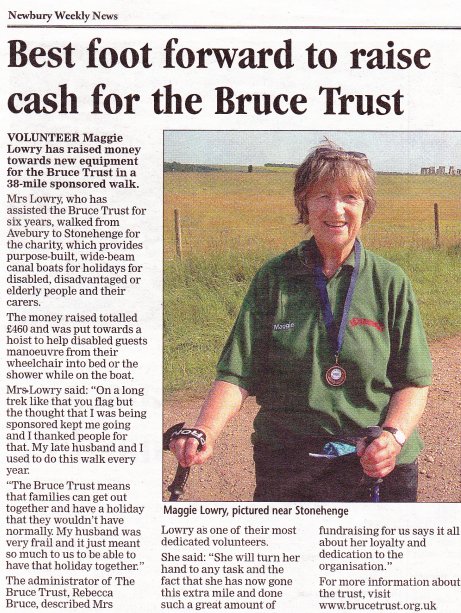 ---

The results of Wheelin' Round the World visit in 2011

Click on the image below to view on UTube (New Window)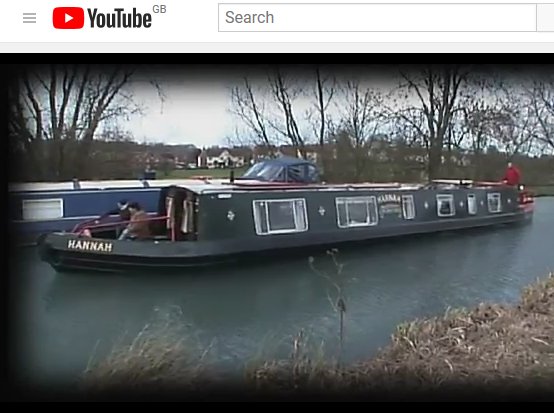 k here.


---

News Features

Rebecca Bruce on UK Boating, broadcast on Information TV ~ Sky 166 & Freesat 402 every Monday & Thursday at 8pm and on Sundays at 8.30pm.

Click on the image below to view on UTube (New Window)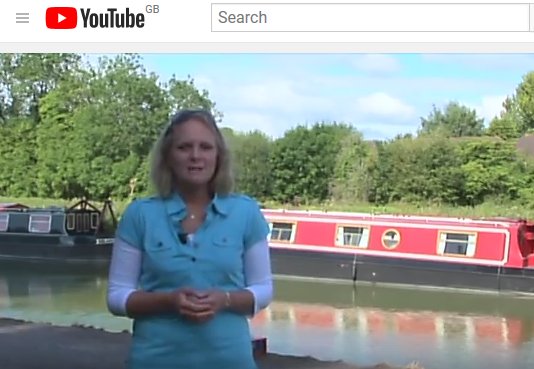 ---
SEPTEMBER 2009 ~ NEWS ON THE LAUNCH CELEBRATION FOR 'THE RACHEL'
It is now over 20 years since this Trust first started providing holidays for disabled people and in that time over 10,000 disabled people and their carers have enjoyed holidays with us.

Saturday 20th September was the official launch and blessing of the Trust's latest boat and the culmination of nearly 2 years of fund-raising during this awful recession in order to raise the £150,000 capital required to build this state-of-the-art boat.

Many of the 200 people who supported the event have made generous donations to the Appeal or organised a wide range of fund-raising events from plastic duck racing to village pantomimes; from Barber Shop singing to Flower Pot People trails.

Well over 250 donations to the Appeal have been received ranging in sizes from £5 to £10,000 – the Trust is very grateful to everyone for making this new boat really happen – it simply could not have achieved it without them!

The Rachel was officially launched by David Bruce's 91 year old mother, Rachel Bruce and blessed by the Rev. Mike Shaw who has blessed all of the Trust's fleet.

Sulwen Vaughan, President of Abingdon Vesper Rotary Club, who have taken 3 or 4 weeks every year for the last 15 years, enabling thousands of disabled people to have day trips, generously donated enough automatic inflatable life jackets for all the boats.

Mike Tanner, Worshipful Brother of United Grand Lodge of England, presented the Trust with a cheque for £2,000. on behalf of the Masonic Province of Berkshire

Almost £700 was raised through a raffle and donations on the day.
| | |
| --- | --- |
| | Michael Tanner, Worshipful Brother of United Grand Lodge of England presenting on behalf of Masonic Province of Berkshire |
| | The large crowd gathered for the celebrations |
| | Anna Horsey and Nina Newey model life jackets generously donated by Abingdon Vesper Rotary Club |
| | Mrs Rachel Bruce, David's 91 year old mother, launches the boat named after her |
| | Sulwen Vaughan, President of Abingdon Vesper Rotary Club, presents 30 new lifejackets to David Bruce |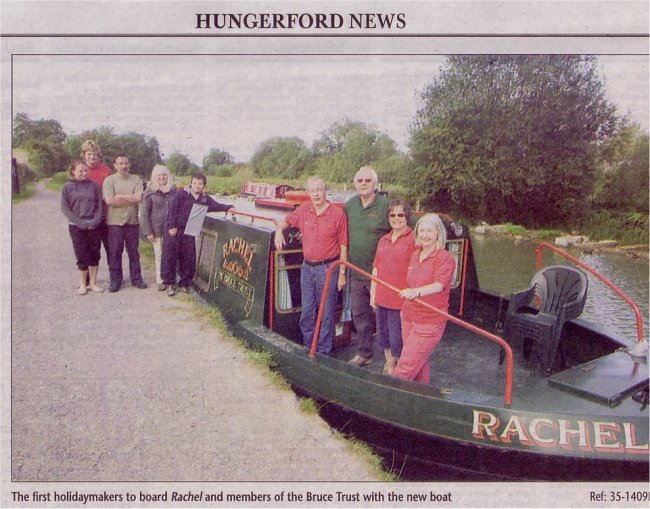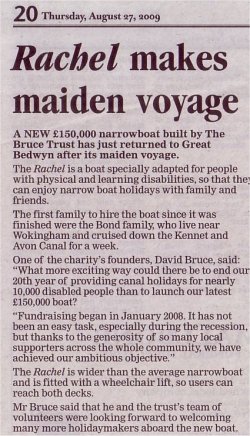 ---